Hi! On Tuesday, October 11, I analyzed a TV Show and product placement was spotted: Starbucks and Pepsi Fridges, Planters Peanuts, Bugles, Chex Mix, Pringles Chips in The Patient S01E08 "Ezra" (2022).
Here are 1 image(s) below: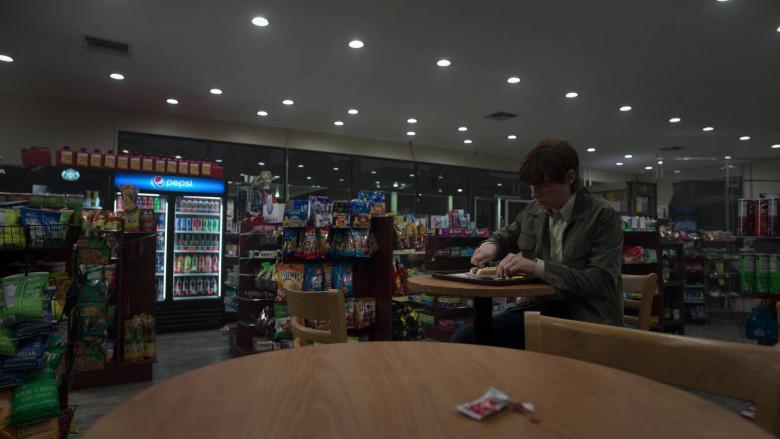 If you're looking for a quick snack that will satisfy your cravings, then look no further than Starbucks, Pepsi, Planters Peanuts, Bugles, Chex Mix, and Pringles. These brands have become household names for a reason – they make delicious snacks that are perfect for on-the-go eating. Here's a closer look at why these drinks and snacks are so good:
Starbucks: Starbucks coffee is renowned for its rich flavor and smooth texture.
Pepsi: Pepsi is another beverage brand that knows how to do snacks right. Their chips are crispy and full of flavor, while their pretzels are soft and chewy – perfect for when you're craving something salty. And if you're in the mood for something sweet, their cookies are precisely what you need.
Planters Peanuts: Planters peanuts are roasted to perfection, giving them a deep flavor that is irresistible. They also come in a variety of flavors, so there's something for everyone to enjoy. Plus, they're a healthy snack option as well!
Bugles: Bugles are crispy corn chips that are coated in flavoring – making them addictively tasty. They come in all sorts of flavors too, so you can find the perfect one to suit your mood (or try them all!).
Chex Mix: Chex mix is the ultimate party snack – it's hearty enough to keep you satisfied but light enough that you won't feel weighed down afterward (unlike some other heavier options). It's also got plenty of flavors thanks to the various types of cereal included in the mix. Who knew breakfast could taste so good?
Pringles: Pringles potato chips have an iconic curved shape and ridged surface that makes them instantly recognizable (and totally addictive). They're made with quality ingredients too which means they taste even better than your average chip. Once you start popping, it'll be hard to stop!