While Netflix is investing billions in new content, binge-watching is getting more popular and even binge-racing is becoming a trend, TV series still appears to be very popular. Maybe more popular than ever.
Reason enough for the team of Winkelstraat.nl, a platform for high-end luxury fashion, to organize a binge-watching marathon. Not for fun – well, maybe a little bit – but to determine if, and how often, fashion brands and designers are being mentioned in TV series.
Winkelstraat.nl spent hours analyzing over 100 popular TV series, including popular series like Suits, Desperate Housewives, Modern Family and Glee. The most interesting findings are being mentioned on this page.
BRANDS AND THE CITY
With a whopping amount of 126 mentions of brands and designers, Sex and the City is the number one brand-oriented TV show. On average; Carrie, Samantha, Miranda and Charlotte mention 1,4 brands per episode. Manolo Blahnik, Prada and Dolce & Gabbana are the favorite brands of the cast of SATC.
Ugly Betty and Gossip Girl are also very brand-oriented. They both follow Sex and the City's brand mentioning pace at a distance. The episodes of Emmy and Golden Globe winning TV series Ugly Betty contained 117 unique brand mentions, with Gucci as the clear winner. Valentino and Christian Dior turned out to be the most popular in Gossip Girl, which totaled 77 brand references.
PRADA VS. MICHAEL KORS
In general, Prada, Gucci and Chanel received the most mentions in English TV series. Other popular brands are Dolce & Gabbana, Manolo Blahnik and Christian Dior.
Winkelstraat.nl was somewhat surprised about the apparent popularity of Prada. The fashion platform noticed that Prada has already been sidetracked as a popular brand some time ago. "In contrast to the brand-trends that are discovered in TV series, we see trends in younger luxury streetwear brands, such as Michael Kors and Philipp Plein. TV series can't keep up with the actual trends of fashionistas'', says Joost van der Veer, CEO of Winkelstraat.nl.
MOST MENTIONED BRANDS IN TV SHOWS FOR WOMEN
Of the 12 TV series with the most mentions of fashion brands, 11 are broadcasted for (mainly) female audiences. 30 Rock is the only exception, as this show attracts a fairly equal mix of male and female viewers.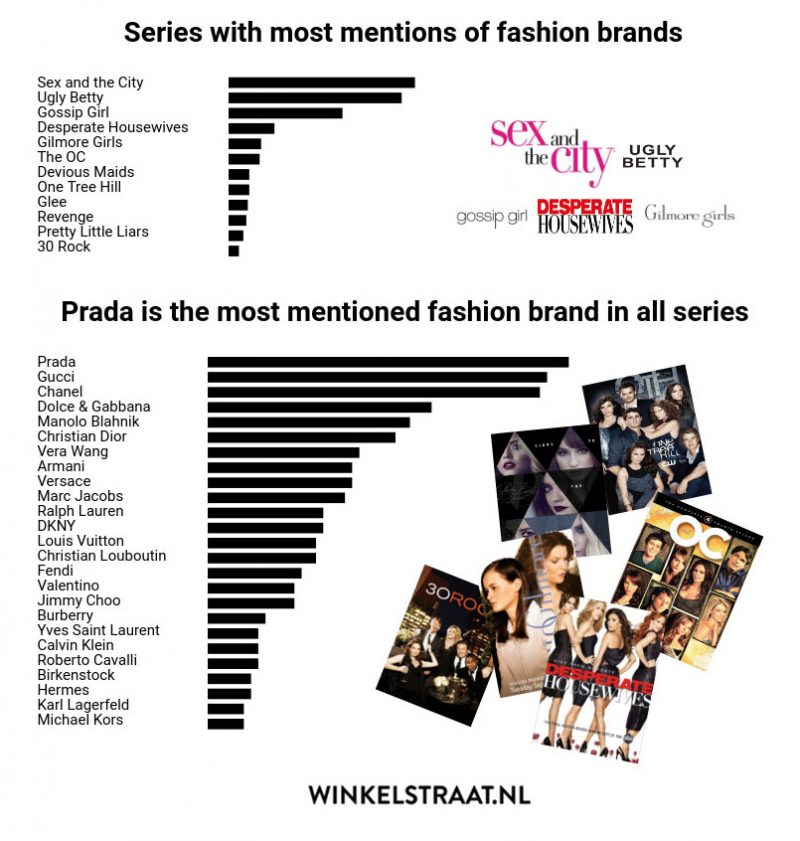 Source: winkelstraat.nl